Written By: Danielle Caswell
It's that time of the year again to get all dressed up and celebrate the holidays with our families, friends, friends of friends, coworkers, maybe some acquaintances and who knows, maybe even a stranger. This is the time to really take in and appreciate all the love surrounding us so why not look cute while we do it? Coming into December is a joyous energy of cheer but also a busy time for most people and can even be stressful. Don't fret about not knowing what to wear to Aunt Mary's Christmas eve dinner or that work holiday party. Let us help you find that perfect holiday outfit for all your festivities!
Christmas Market: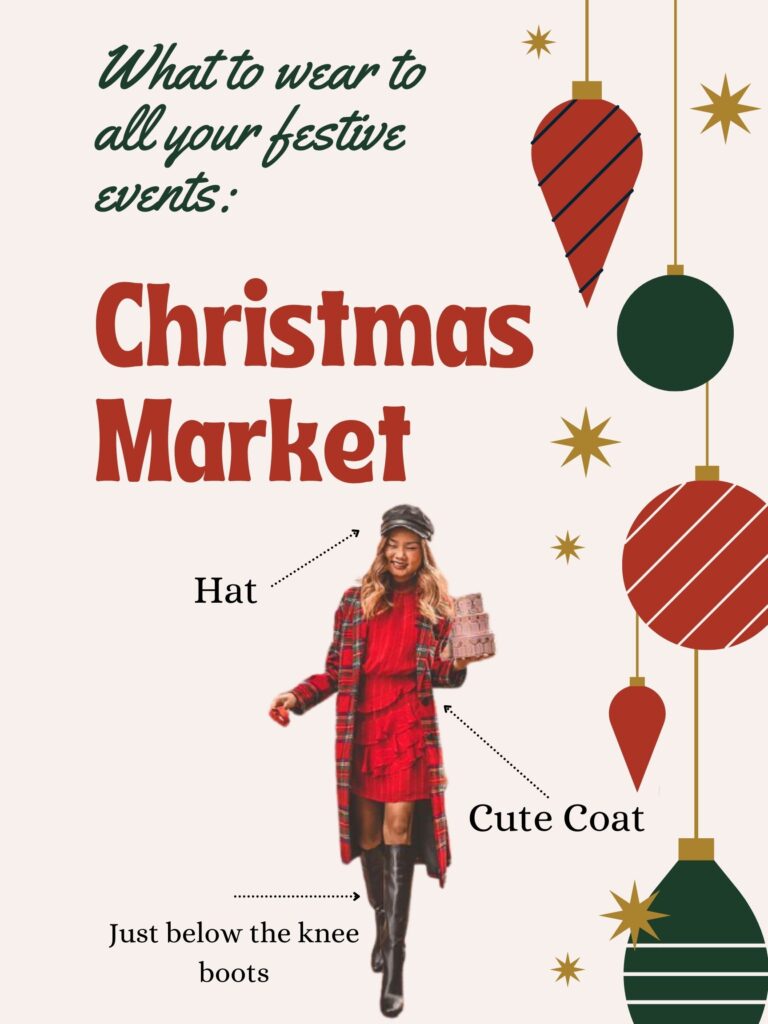 Whether you're grabbing hot chocolate with the girls or maybe having a cute date night paired with some spiked apple ciders you know a night at the Christmas Market is always magical. As much as it is a lot of fun, most of the time you are freezing your jingle bells off. Keeping warm is the number 1 rule of the Christmas market unless you are at an indoor market, in that case ignore this. BUT if you are in Toronto, you're going to want to keep this in mind:
Winter Coat:
First things first, you have to have a cute warm coat. Ideally a solid color long puffer jacket would be the ultimate form of comfort and warmth. But if you are looking to fit more of the festive vibe, rocking a plaid, houndstooth or large checkered print coat is always a vibe. For more of a luxe vibe, look towards textures with furs, leathers and suede. When it comes to outdoor festivities the first thing people mostly notice is the coat so make sure you are rocking something that is keeping you comfortable yet reflecting that amazing style of yours.
Boots:
The always trending knee highs are the best bet for cute outdoor winter festivities. This year's boots that are hitting right at the knee give a beautiful silhouette and are the "it" boots this season paired with a chunky or short heel. Keeping things easy with an all-black boot works for every outfit but if you are looking to elevate that boot game, try it with some colour with a white , deep red, grey or even blue.
Hats:
Us Canadians love toque and they are ever so diverse and work with almost every outfit but we want to offer you a stylist alternative to maybe try this holiday season. We have been seeing a lot of funky hat styles this season starting with the big furry bucket hat. It may not be for everyone but you cannot deny that it will keep you warm and make you look like the most edgy person in the market. Keep it cool with a solid colour to not outshine the rest of the outfit.
We love berets! Totally Emily in Paris takes Toronto vibe this winter and we will definitely be seeing that at this year's Christmas markets. Cannot go wrong with a strong red beret matched with a red lip, that's classic, chic and festive!
Work holiday party: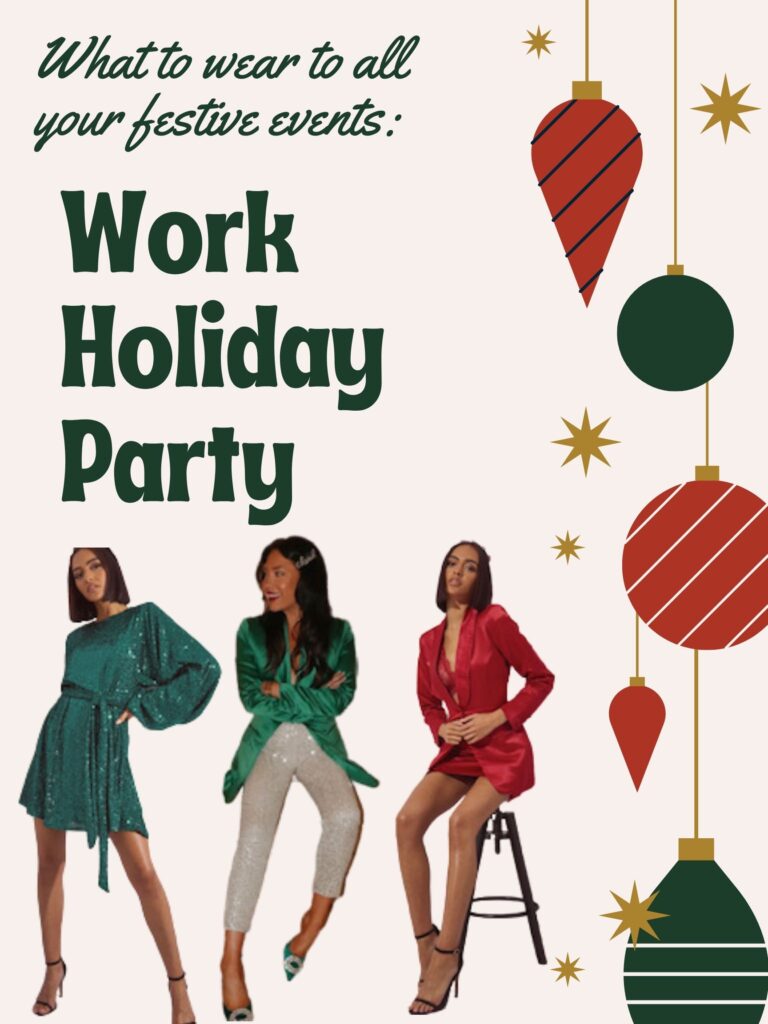 This is that one party that occurs annually that everyone talks about for all of the new year. A chance to let loose with your coworkers and party your stresses away, plus you know there is always going to be that one person that parties too hard and entertains the night away until they pass out. This winter, is your year to be the most well dressed of all the party goers. Here are a few tips:
Sequins:
This material can get a little tricky and sometimes not the most comfortable but looks good on everyone! Ideally stick to a solid colour this season. And try to stay near festive colours or classics. Emerald green, white and blacks are perfect. Usually, we see sequin straight dresses majority of the time so why not change it up from something basic to maybe a sequin legging or blazer with a great matching coloured top.
Satin:
Shiny, soft and luxurious. Satin is the perfect material for any party dress. In a solid colour, it can be easily styled and can be used to give a beautifully minimalistic look. Try a Satin power blazer with matching pants or a skirt in a bold seasonal colour. It shows off confidence, femininity and power, yet makes you ready to have a fun time!
Dinner with the family: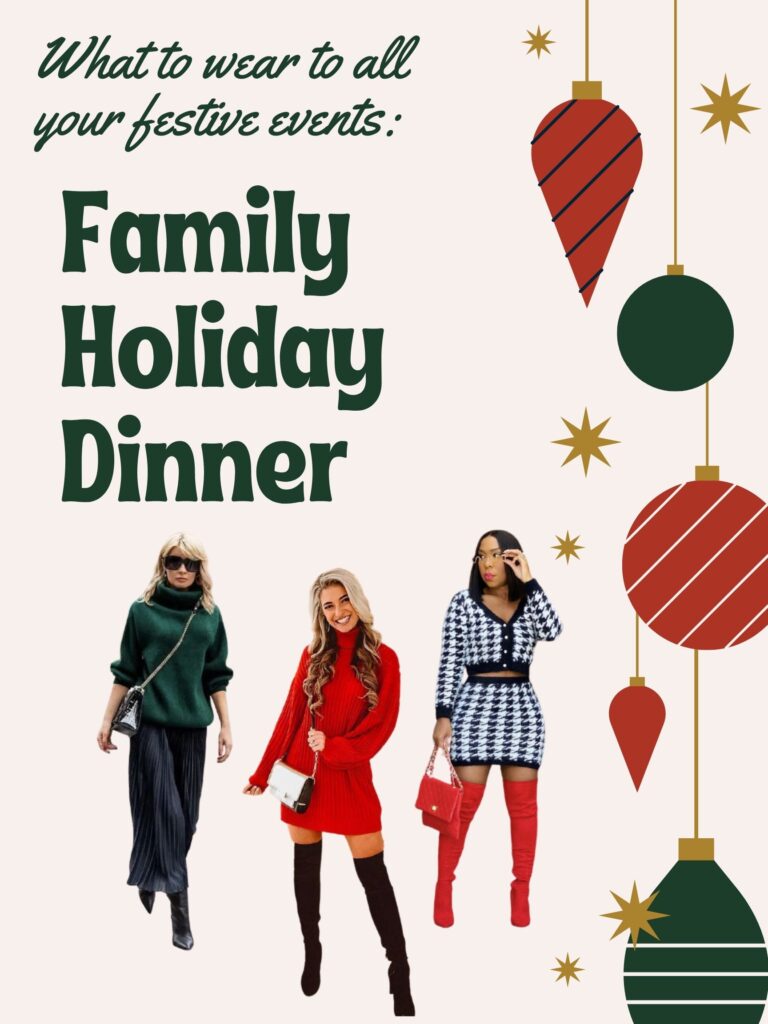 Finally the big dinner with the family. The mission of this night is usually to have a laugh with family, eat a big ole feast and be merry. The perfect outfit for this occasion revolves around comfortability, confidence and stretch. When there is a feast involved, we have to make sure we are dressed for it, keeping things loose definitely helps with oversized sweaters and skirts that are not tight fitting.
Knits:
Stick with the knits; they are a staple and will never disappoint. There are many different ways you can go about a knit this time of year but keeping it simple with just the classic knit sweater over a good pair of jeans or leather pants is ideal. You can style it up with some great accessories. A couple ways you can have fun with knits is finding a fun pattern or bold coloured knit sweater or cardigan and play with colour blocking or even more of a challenge, prints on prints.
But if all else fails for any of your holiday festivities there is no harm in pulling out that ugly Christmas sweater and feeling that holiday spirit.
Let us know what you'll be wearing to all your holiday festivities this year by commenting below or better yet tag us in this year's holidays OOTD's by tagging @infusehumber.