The exciting London Fashion Week event this year took place from February 19th– 23rd, and it was apparent the event was highly inspired by the Victorian era. Beauty trends displayed were not only beautiful in multiple makeup artistry aspects, but also unique compared to other fashion week events – particularly with hair.
The lush hairdos displayed uniquely in London Fashion Week were unseen in other fashion week events. Various slicked and braided bun updos are ones truly inspired by the Victorian era and were charmingly incorporated in several shows for 2021 fall/winter.
Minimalistic Sculpt with Embellishments & Illustration
Although keeping the skin looking very minimal in its base, the facial structures spotted in the event were rather sculpted with an alluring flush of blush added to the cheeks. With that being said however, the artistry did not shy away from incorporating bold embellishments and graphics to the models' eyes and face.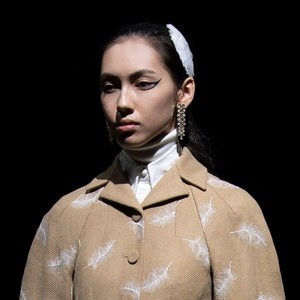 It's no surprise this beauty trend was carried into London Fashion Week: the ever-stunning cat eye. Through uses of graphic liner and eyeshadows, this look was spotted and was added to some looks in compliments to their sculpted face makeup.            
What were your thoughts on London Fashion Week 2021? Did you enjoy the Victorian era inspiration as much as we did, or do you think the past should stay in the past? Let us know!
Written by: Zoya Abbas